Not just a scrub store.
With full service uniform stores, custom uniforms, embroidery, and mobile uniform units, Ward Apparel is the #1 place to outfit your entire staff.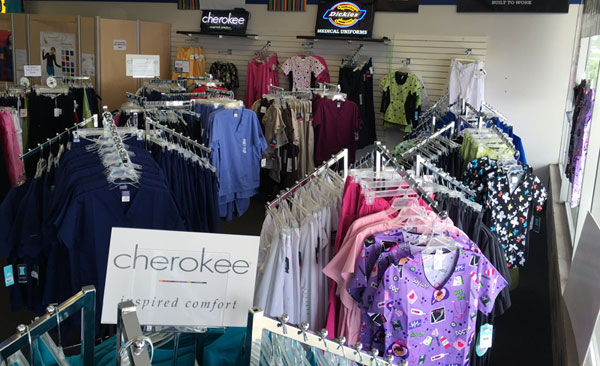 Need uniforms? Talk to us.
We represent over 140 brands in medical garments, police & fire, professional wear, school uniforms, workwear including FR, sports wear and spiritwear and much more. Our embroidery, screen printing and sublimation services provide cost effective group branding whether it's your office or little league team, we have a solution.

Your full-service apparel provider.
We'd love to help you outfit your entire staff. We offer custom embroidery, screenprinting, customizable school programs, fund raising help, payroll deductions and a full retail store.
We offer private ecommerce sites for many of our customers to support their uniforming programs.

Mobile Uniform Stores
We offer your employees the convenience of shopping at work by bringing the store to your facility! Click here to see how you can have a full store of custom embroidered apparel, delivered right to your facility.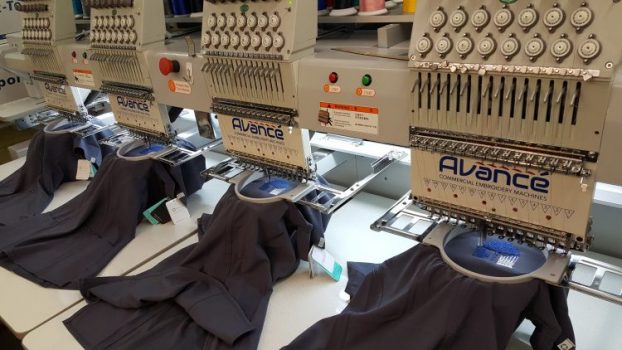 Career College / Technical Schools & Large Group Sales
Our Management Team has over 28 years of combined experience working with the top nursing schools in North America.  We understand your group's unique needs and can provide customer service to all your locations that's second to none.  Above all else, we realize the importance of on time delivery.

Whatever your workplace, we've got you covered. (Literally.)
We can assist with designing custom uniforms for just about every professional job, including (but not limited to):
Medical Professionals
Career College / Tech School
Office/Professional Wear
Law Enforcement
Firefighters/EMT
Culinary/Chefs
School Uniforms
Spirit Wear
Workwear
Flame Resistant Workwear (Including FR HRC4 & NFPA2112)
Mobile Uniform Stores
We will bring our store to your workplace! We'll help you design custom logos & embroidery, select apparel, and then bring all clothing options to your facility for employees to get fitted in on-site.
This saves you both time and money. Schedule a mobile uniform show or find out more today!
Learn more!!!
When buying online, you don't have a way to size the apparel.  On top of that, returns can be a nightmare (and typically costly). Let us help you solve that problem…
WARD Apparel offers all the top brands at awesome prices!  Want to try something different?  Our knowledgeable staff can help you find your perfect next set of scrubs and you can always try before you buy.
Career College / Student Programs.
WARD Apparel's staff has worked with Career College nursing and other programs ranging from single to hundreds of locations throughout North America.  We understand the challenges of providing embroidered uniforms to students in a timely and cost effective manner.
Why WARD Apparel for your school? 
Brand Name uniforms from Cherokee, Dickies, Barco, Landau to ensure quality, professional appearance and on time delivery.
High quality accessories from a host of brands based on class needs
Customized / Private Student ordering websites.
Custom reporting and billing to fulfill individual and group location requirements.
Package Per Student and other services to make issuing uniforms simple and accountable.
Custom kitting per each classes needs.
Customer service that is second to none.  We believe in making results, not excuses.
We can work with you to for compliance with brand standards or simply in creating your own image. Your staff will look professional and sharp with everyone looking uniformly excellent.
Here's how it works…
Determine Uniform Program
We will work with you to establish the uniform program for your organization. This can include color coding for job roles, custom embroidery, screen printing or sublimation.
Determine the method(s) of fitting and ordering
Numerous custom options are available including:
Fitting and ordering at our store
Onsite live fittings by one of our mobile units
Fitting onsite using pre-delivered sizing sets
Order by private online webstore
Onsite Payment Options
For onsite events we offer Cash, Check, Credit Card and Company Credit, Payroll Deduct or Vouchers (if authorized by host facililty).  Our state-of-the-art POS systems help us have fast checkout times and quick special ordering. Realtime warehouse inventory counts and customer-friendly Special Order Systems ensure that your staff buys exactly what they want.
Online & Store Payment
For online ordering and in store, company credit accounts, payroll deduct and voucher programs can be setup if desired to allow your staff to order authorized product (in addition to all normal payment methods).
Contact us for any of your uniform and apparel needs!
We're here to serve. Let us know if you have any questions! We look forward to working with you.
Contact us now!